In anticipation of summer, we've put together the top 10 best ways to use propane for the season. Propane has many diverse uses and can fit any combination of needs. This list features how you can use propane at home. Keep in mind that the benefits of propane don't stop here. Are you going to a hotel this summer? They are probably incorporating propane to lower their carbon footprint and improve your experience. Even golf courses see improvement when they switch to propane. Maintenance vehicles running on propane have clean emissions, plus they are quieter, cheaper, and easier to use than their other fuel counterparts.
1. Patio Heater
Who says the fun has to end when the sun goes down? By adding a patio heater to your backyard, you won't even notice when the warm sun rays disappear. Because of propane's dependability, these heaters will also come in handy during the winter months. With some help from propane, you can enjoy your patio every time of the year.
2. Pool Heater
Come on in, the water's always fine with a propane pool heater! Take control of the temperature and ensure your pool will be ready every time you want to swim. It also works with a variety of pools, so no matter what your setup, there's a solution to keep it warm. Above and in-ground pools, even spas, can be fueled with the power of propane. Unlike heat pumps and solar pool heaters, propane heaters can be used at any time, provided they have fuel, and are the most reliable option. Using a cover for your pool will also help keep it warmer, bringing your costs down and helping keep your pool clean.
3. Grill/Barbecue
No summer is complete without the quintessential barbecue. Fire up your propane and grill away. From classic recipes like the beloved burger to the wacky adventures of pie grilling, your barbecue is there when you need a memorable meal and is perfect for family gatherings.
4. Outdoor Kitchen
If your grill is starting to look a bit too small, it might be time to expand your options and install a complete outdoor kitchen. You can still grill, but now your world can open up with different appliance options. Who hasn't wanted to cook their own pizza in a state-of-the-art outdoor oven? Smokers are also a good way to cook with propane.
5. Lighting
Propane can illuminate your life, literally, with the help of flame lighting. There are also a lot of style choices, so the light fixtures can be the perfect accent to any backyard. By using flame lighting, your backyard can be the most romantic spot in town thanks to the warm glow and efficient lighting.
6. Fireplaces & Fire Pits
Nothing is cozier than a good fire with friends and family. With propane, you can get an on-demand fireplace or firepit. Thanks to the incredible options available, your fire fixture can fit any space. Outdoor fireplaces can range from rustic to modern and can fit the size you need. Fire pits can be permanently installed, or if you want to move them around, you can even get a portable fire pit that is powered by a small tank.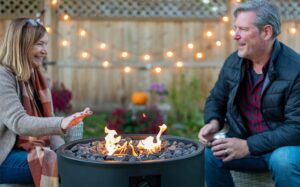 7. Insect Fogger
Summer's greatest villains are bugs. Although a bit unconventional, there are mosquito foggers that are powered by propane. Since they can be odorless and safe for humans, they can provide great relief from the bloodsucking bugs intent on ruining the outdoors. Just be careful when using it. Follow the manufacturer's instructions at all times and exercise caution. Be wary of which insects you are using it on. It has the potential to kill all insects in the area you are fogging (even the good ones). Also, make sure that you are not going against any regulations for your area. If you rent or are on protected land, this might go against the regulations.
8. Water Heater
A cold shower can be refreshing, but after jumping in the lake and coming back at night, a warm shower is the way to go. Instead of having to wait minutes for the water to heat up, use a tankless water heater. These offer near-immediate hot water from the moment you turn on the faucet. It's also extremely efficient, using less water and power than alternative heaters.
9. Backup Generator
Nothing is more aggravating than the power going out when you are in the middle of something. Ensure that doesn't happen this year by getting your home equipped with a propane backup generator. It can start supplying supplemental energy in as little as ten seconds after an outage begins. And with multiple sizes, there's a generator for every home.
10. RVs
Take your RV on the road and let's go! Adventures are always ready to be had when you have an RV, but they wouldn't be quite the same without propane. Often used for cooking and heating, propane helps your experience on the road be the best it can be. Because there are so many uses for propane in RVs, and it's often dependent on which model you have, it's up to you to decide how propane can make your summer amazing this year.
Propane for Summer and Beyond
What's your favorite way to use propane for the summer? Remember, there are even more ways propane can benefit you. With minimal emissions, it's the perfect clean fuel for every season. It's reliable, easy to scale for any project size, and adaptable. Reach out to your local Delta Liquid Energy branch today and learn how propane can help you! It's there no matter what, always when you need it.