At Delta Liquid Energy (DLE) we strive to be active supporters of all the communities we service. Sponsoring local organizations with our time and resources is a big part of our company culture. Below are just a few of the local organizations we sponsor and contribute to. Please contact us for more information about how we may be able to help your organization. Let's work together to give back to all the communities Delta Liquid Energy services!
Annual Holiday Drive:
Join DLE in our mission to help make the holidays brighter for those in need! DLE partners with local nonprofits each year to collect food items, toys, and/or coats to be donated to members of our communities. Please check back for updates on each location and what items they will be collecting in the weeks leading up to the holidays.
In 2021, we will be accepting donations in person AND shipped directly to our offices. Simply shop at your favorite online retailer and use our office as your shipping address. Many sites such as Amazon, Target, & Walmart will ship for free. Grocery stores will also allow for online shopping and delivery to your address of choice! Smart and Final is a great place to purchase in bulk. All of our addresses can be found on our Contact page. We are also happy to answer any questions you may have about this new format of giving.
This year, we were happy to contribute to the Toy Bank of Greater Paso Robles, the Community Action Partnership of Kern County, Friends of Tulare County, the Food Bank of Santa Barbara County, and the Salvation Army.
Please join us at each of our Delta Liquid Energy locations this year:
Paso Robles, CA is accepting donations of new and unwrapped toys for children of all ages.
Bakersfield, CA is accepting canned and boxed foods. Please no refrigerated items.
Lake Isabella, CA will be joining our Bakersfield location in their collection of canned foods, nut butters, and dried foods.
Santa Maria, CA is hosting a virtual fundraising drive benefiting the Foodbank of Santa Barbara County. Contribute to the Foodbank HERE.
Farmersville, CA is accepting gift cards and gifts for teens and young adults.

Tehachapi, CA is accepting gift cards for teens and young adults.

Lancaster, CA is accepting new and unwrapped toys for children of all ages.
Santa Paula, CA is accepting new and unwrapped toys for children of all ages.
Future Farmers of America and 4-H: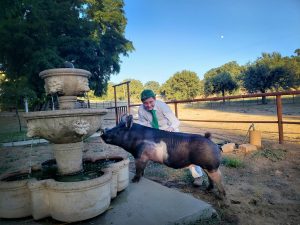 Every year Delta Liquid Energy strives to encourage the youth in San Luis Obispo County to pursue agricultural education. The responsibility of raising an animal for show is no easy feat; by sponsoring some of these kids and their animals Delta Liquid Energy shows support for their futures. A live auction is held at The California Mid State Fair every year. At this annual event, Delta Liquid Energy bids on steers, lambs, hogs, and more. All meat acquired by Delta Liquid Energy is donated to local food banks once the auction is complete.
2020 brought some unforeseen challenges for the students intending to show their animals at The California Mid State Fair. Read our blog to hear from a few students first hand on how they persevered through the show season despite COVID pandemic.
COVID-19 Pandemic Relief
Throughout the course of 2020 and 2021 we've worked with our local communities in their efforts to curb the spread of the coronavirus. In Bakersfield, we partnered with Walker Lewis Rents, LLC to heat triage tents at four area hospitals. Delta Liquid Energy supplied the propane and Walker Lewis Rents, LLC provided cylinders and portable heaters.
At the start of 2021 as vaccines were distributed, our central coast offices in Santa Maria and Paso Robles provided heat for tents used by SLO County Fire for vaccination distribution. At the Paso Robles Event Center, Arroyo Grande High School, and Cuesta College in San Luis Obispo tents were set up to accommodate those interested in receiving vaccinations. Delta Liquid Energy set up temporary propane tanks to supply power to the tent's heaters.
Local School Sponsorships:
Delta Liquid Energy is proud to sponsor many school and youth activities in all the communities that we service. Youth sports leagues, booster clubs, and parent-teacher associations are all organizations we are happy to support.